Take a step in the right direction for Bóthar
Pete is off again! To mark his birthday, he's walking from Limerick to Killaloe and back and it's all to raise funds for Bóthar...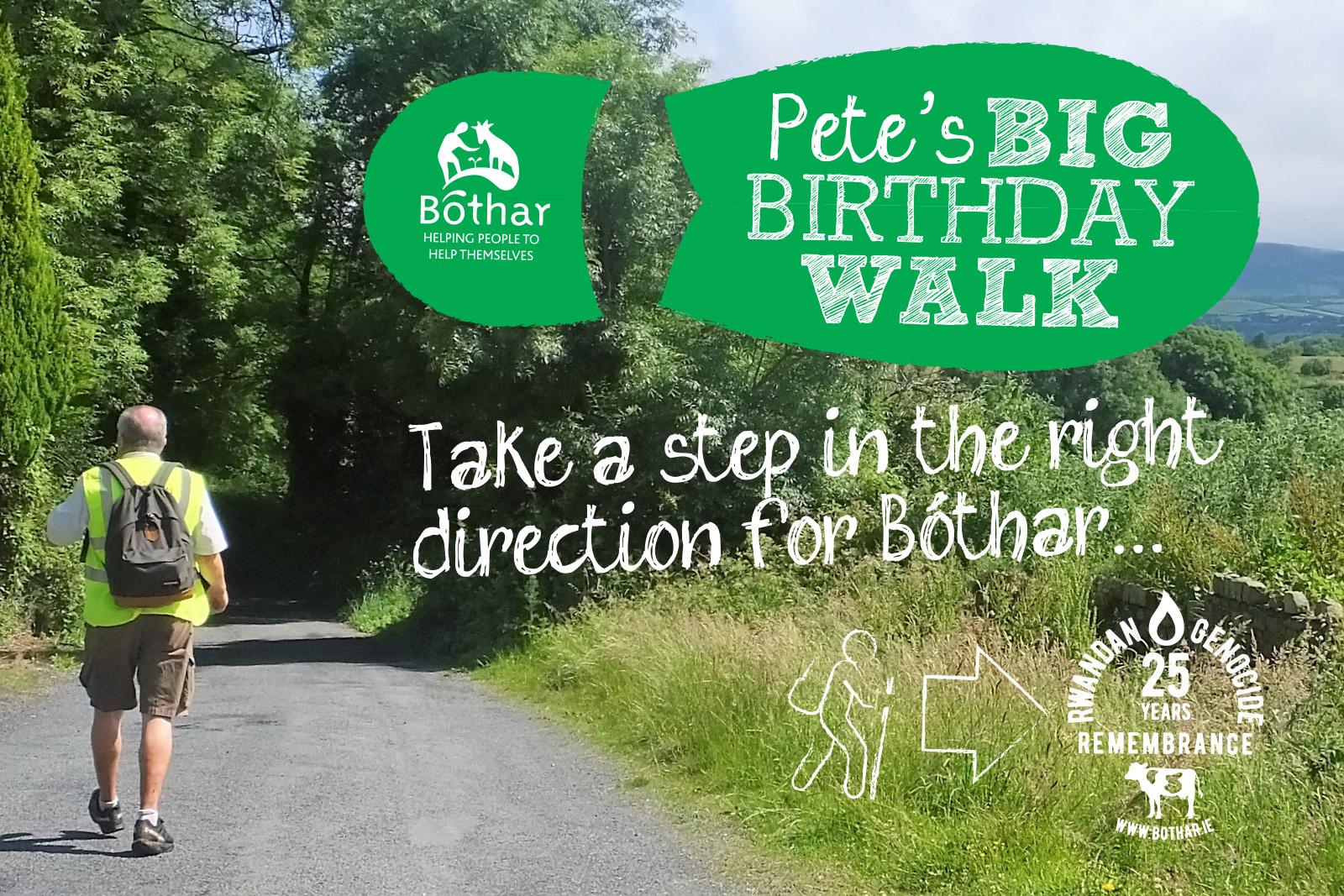 Every year Bóthar founder Peter Ireton takes to the road for Bóthar. This year he is looking for fellow walkers to join him on the day.
It's on Saturday June 29th. It leaves the University of Limerick at 7am and takes approximately 11 hours. There's plenty of food and rest stops along the way. It is a very enjoyable day out.
Get Registered!
If you would like to walk, get in touch with me, Mags Moloney, and I'll get you registered. Simply call me on 061 414142 or email mags@bothar.ie. Walkers are asked to get sponsorship and all cards and t-shirts will be provided along with food and refreshments on the day of the walk.
If you can't walk on the day, but would like to support Pete in his efforts, you can sponsor him whatever you wish, you can donate securely through our website here.
All funds raised will go towards our Irish dairy cow programmes in Rwanda. Bóthar has been working in Rwanda since 1996 and has helped helped war widows overcome the horrors of the Genocide by giving them a chance to lift themselves out of poverty.
I really hope you can give Pete your support.
Yours sincerely,
Mags Moloney, Donor care
. . . . . . . . . . . . . . . . . . . . . . . . . . . . . . . . . . . . . . 
A message from Pete
Since I turned 60, I have undertaken a big walk every year. This year I am doing it again! I'm walking from Limerick to Killaloe and then back to Limerick again. All in the one day. And I am doing it for Bóthar.
Bóthar's dairy cow projects support the Rwandan government's 'One Cow Per Family' project, which aims to reduce extreme poverty in rural areas of the country by providing each poor family with a cow, transforming the lives of families across Rwanda – a nation that was savaged by the fastest killing spree in the history of the world 25 years ago when up to 1million people were slaughtered in its 90-day genocide.
So get the walking shoes on.
If you can join me on the day, contact Mags Moloney on 1850 82 99 99 or email mags@bothar.ie
If you can't walk with me, please sponsor me. 
Thank you for taking a step in the right direction towards helping Bóthar help war widows in Rwanda.
Thanking you in advance,
Peter Ireton, Bóthar Founder