Super Supporters
Bóthar North East Support Group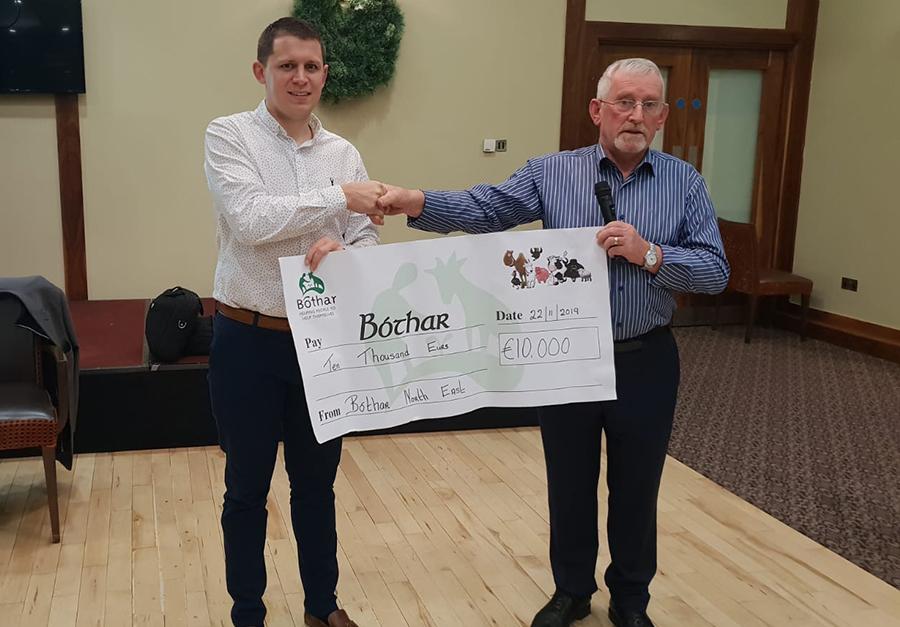 Bóthar's Pat Mullins collected a cheque for €10,000 recently from the Bóthar North East Support Group. Pictured here representing the group is Tom Byrne. Well done to everyone involved. It takes a huge amount of commitment and organisation to do this. Thanks to each and everyone involved in making this happen.
Newport Nails it! huge thanks to the Homework Hub in Newport, Co. Tipperary who ran a coffee morning before Christmas and donated the proceeds to Bóthar. Thanks for making the effort to help others.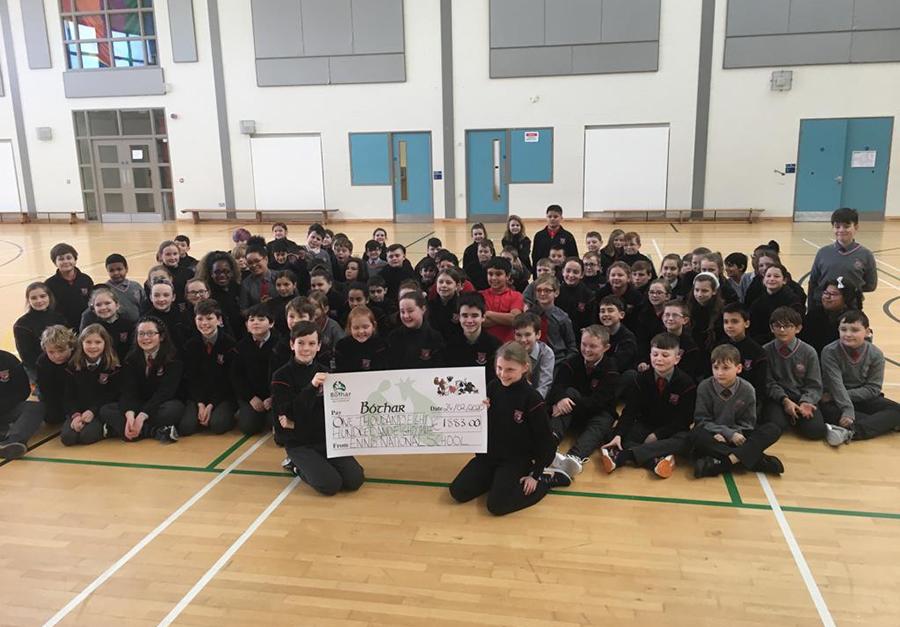 Ennis National School, Co. Clare have done it again this year. They managed to raise an astounding €1,883 from their bring and buy sale. Bóthar's Olivia Comiskey travelled to the school to praise the pupils for the huge amount of hard work they put in. What a great reward for their efforts. Molaim sibh go léir!
Scoil Chlochair Mhuire, Carraigtwohill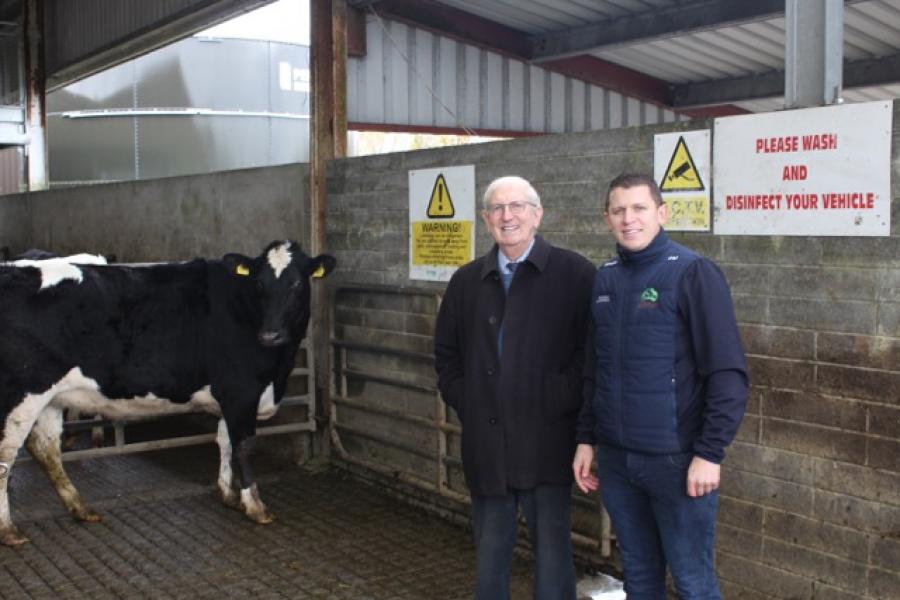 Ennis man John Costello, is pictured here with Pat Mullins, Bóthar on the occasion of donating his 20th in-calf dairy cow to Bóthar. John wished his heifer well on Thursday November 7th as she started her journey from Roscrea mart to her new life in Albania. Thanks to John for this amazing gift, which will help many families in the developing world.
Asdee Active retirement Group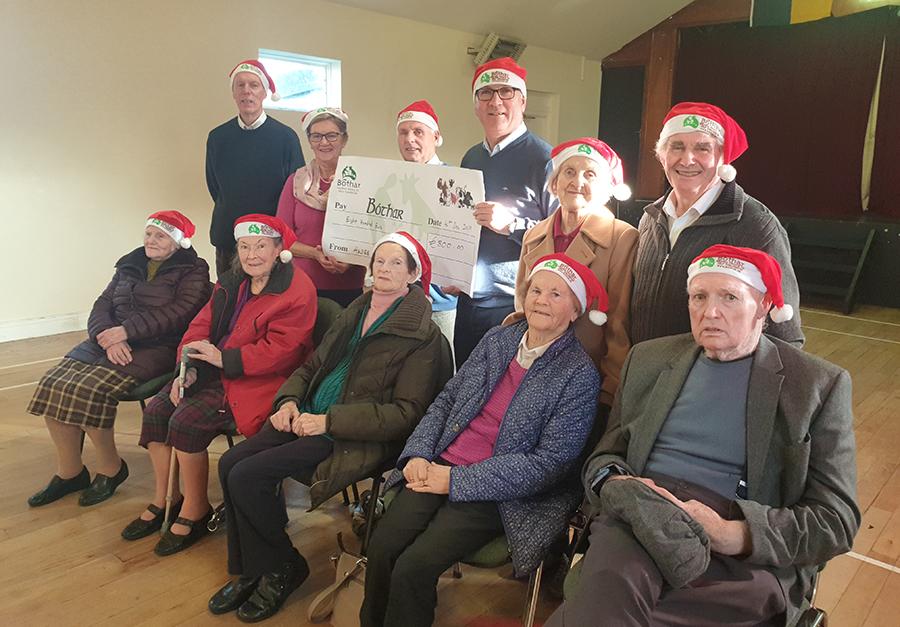 Míle buíochas to the Asdee Active Retired Group from Co. Kerry who sent a second heifer in the January shipment and also raised funds of €800. Thanks so much to the group for their continued fundraising efforts. Changing the world one cow at a time.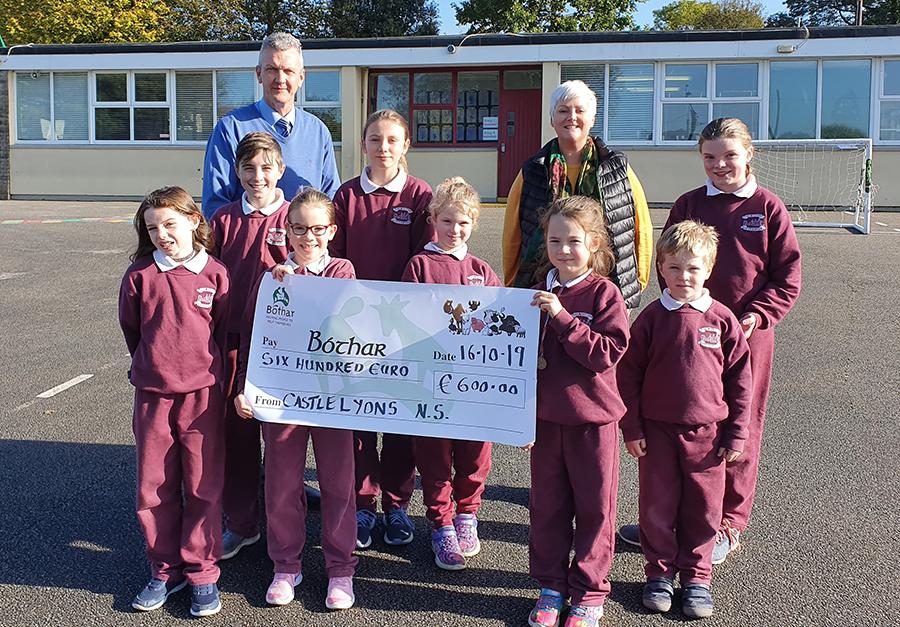 Huge thanks to the pupils of Castlelyons NS, Co. Cork, who have been supporting Bóthar since 2004! The school raised enough to send two goats Coconut and Billy. No kidding! Well done everyone. Pictured here is Bóthar's Maureen Purcell accepting the cheque on behalf of Bóthar.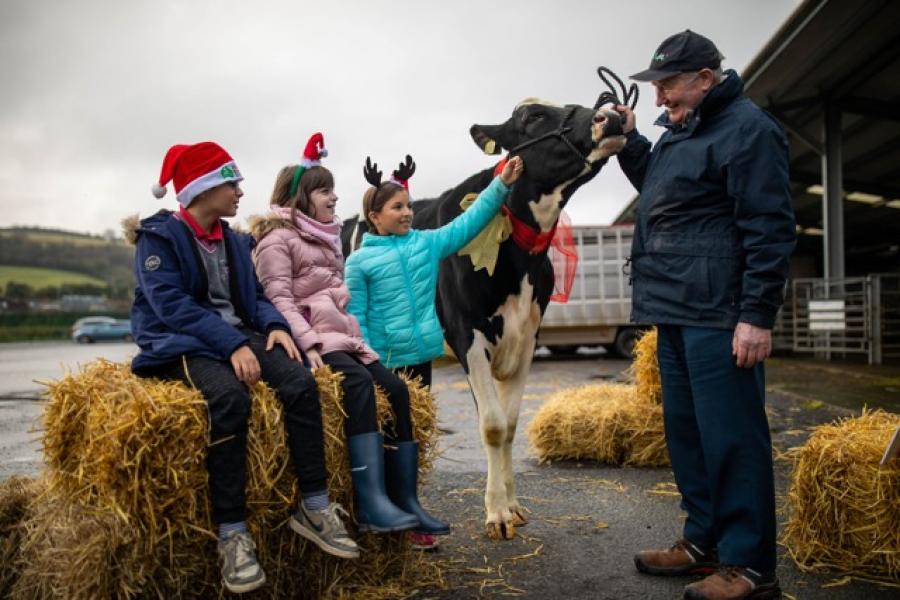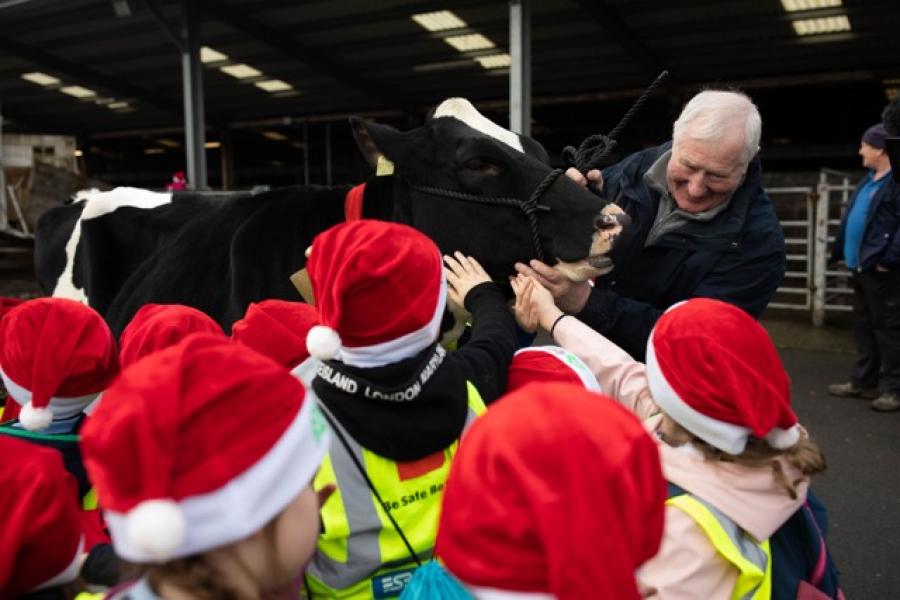 Bóthar had a wonderful day at Roscrea Mart late last year meeting schools and donors who travelled to Tipperary to bid farewell to their animals. The children learned so much about the animals and how they would help their new families from Bóthar supporters Pat Allen and Colm Doyle. A great day was had by all who attended.
Eight year old Hollie Moonan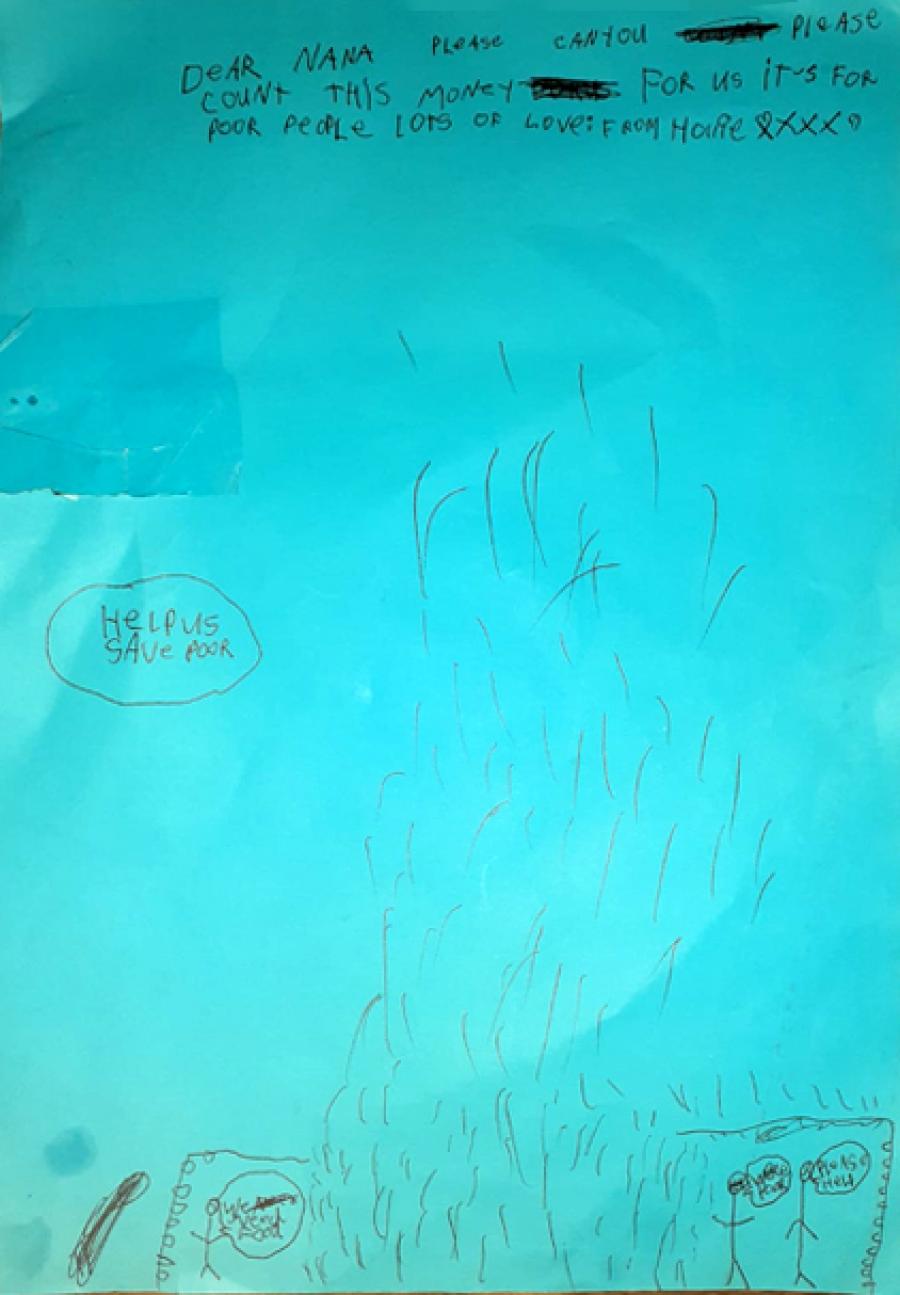 Eight year old Hollie Moonan gave €150 of her own money to help. Her very proud granny, Vera Moonan, from Drogehda, Co. Louth told us the heart- warming story and sent us in this letter and drawing done by Hollie. What a kind girl you have. Thank you Hollie for your support.
Scoil Iosef Naofa, Moy, Lahinch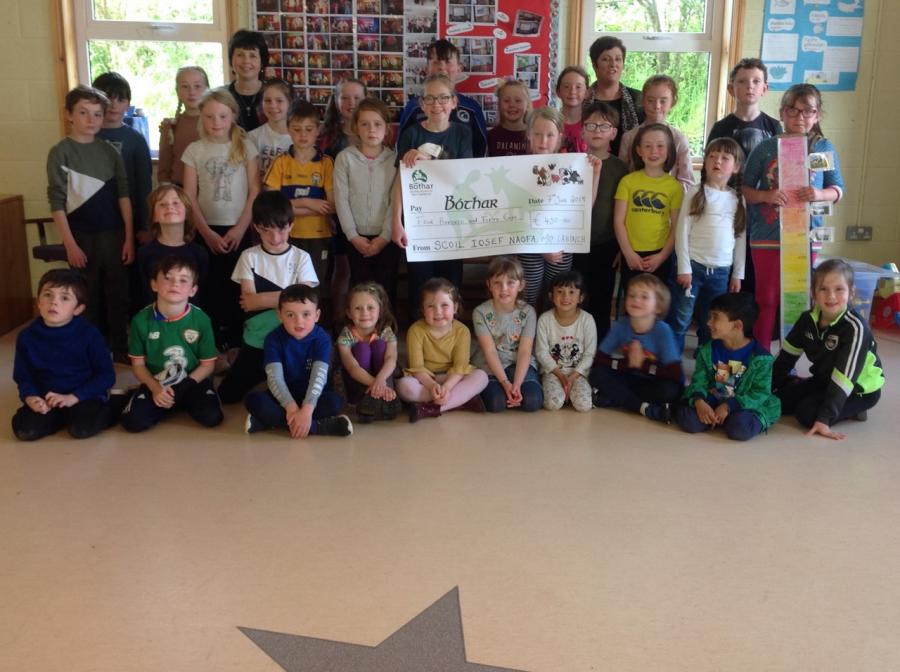 This picture was taken before social distancing measures were in place. Big thanks to Scoil Iosef Naofa, Moy, Lahinch, Co. Clare who raised €430 for Bóthar's work. Well done and a great big THANK YOU to all involved.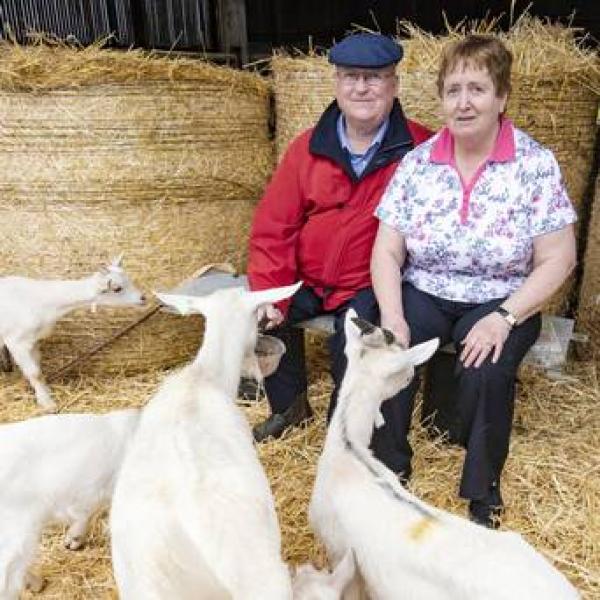 We were delighted to read this report that appeared in the Irish Independent on June 7th about Jimmy & Elizabeth Lennon from Moydrum, Athlone, Co. Westmeath.
"A farming couple who have reared almost 1,000 goats that have been sent to African families as part of the Bóthar charity have been honoured by their local community.
Jimmy and Elizabeth Lennon from Moydrum, Co Westmeath, have been rearing goats for Bóthar on their drystock farm since 2005.
"Our daughter was taking part in a charity horse ride for Bóthar and we came in contact with the Moate Bóthar group, and that's where our involvement began," says Jimmy, who is a retired bus driver in the locality.
"We get the goats from goat farmer and cheesemaker Haske Knippels, who is based in Portumna, Co Galway, for reduced rates, and he always gives us a few for free as well."
Jimmy and Elizabeth rear between 60 and 100 kid goats each year. They receive the goats at three weeks old, and when they are 12 weeks old, they share them among other Moate Bóthar volunteers for further rearing.
Jimmy says that while it is possible to rear goats on a small patch of land, the kids need a lot of looking after at the start.
"We feed them with Lamblac a few times a day. It suits us because we are at home all of the time and can bring one in by the fire if needed.
"Good fencing is a must as well because they can escape quite often. "We always rear the Saanen breed of goats as they are the most productive. They're the Friesian cow of the goat."
Volunteer and dairy farmer Colm Doyle, who visited Rwanda in 2017 to see the families where the goats had been sent to, says it opened his eyes to the importance of goat rearing.
"I visited households where kids who were eight years old looked four years old, which really struck me, but when I went to the houses that had Bóthar goats for a few years, the children looked their age," says Colm.
"They weren't dressed in fancy clothes or didn't live in big houses, but they looked their age and were healthy. When you have children of your own, you realise what matters."
Colm, who is following in the footsteps of his late father Jimmy in rearing goats, says the Moate Bóthar group is grateful to all who volunteer or donate in any way throughout the year and would encourage anybody considering rearing a goat to get in touch with them.
If you would like further information contact Pat Mullins on 1850 82 99 99.
Rice College, Ennis , Co. Clare
Thank you so much to the 5th year students of Rice College, Ennis, Co. Clare who raised €600 to send an Irish dairy goat and bees and chicks to struggling families in the developing world. they are pictured here with teacher Bríd Ronan and Maureen Purcell from Bóthar. Thank you for changing lives.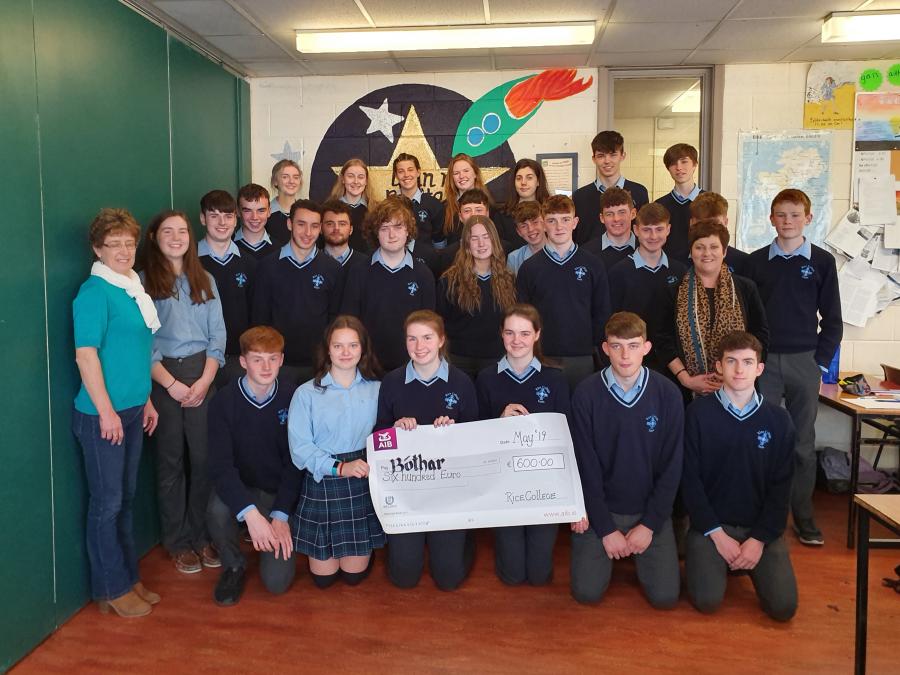 Carbery Corporate Day!
The Carbery Co- Op West Cork, located in Balineen, Cork, held a Corporate Day recently and donated €3,250 to Bóthar, that will be going towards Bóthar's Commemorative Ark that is being sent to survivors of the Genocide this Autumn.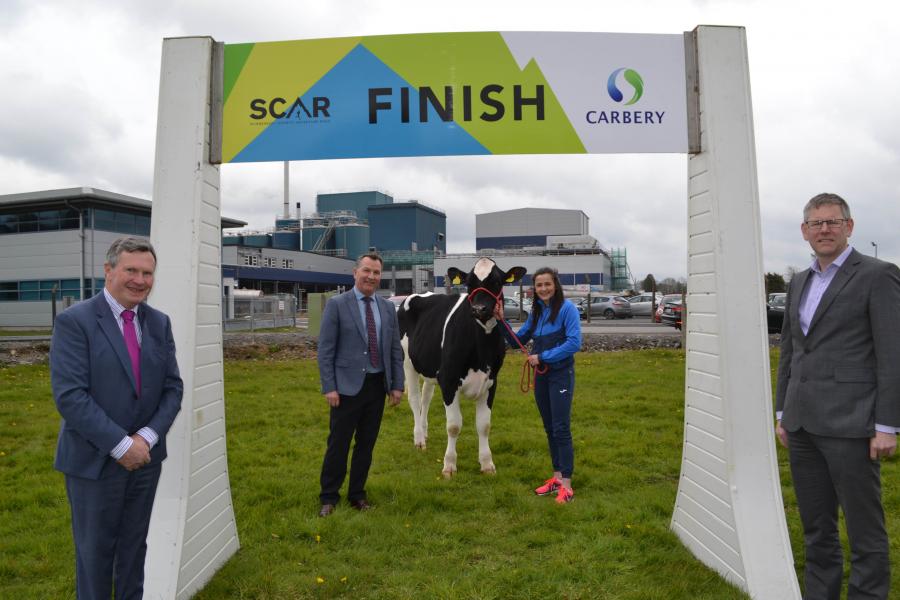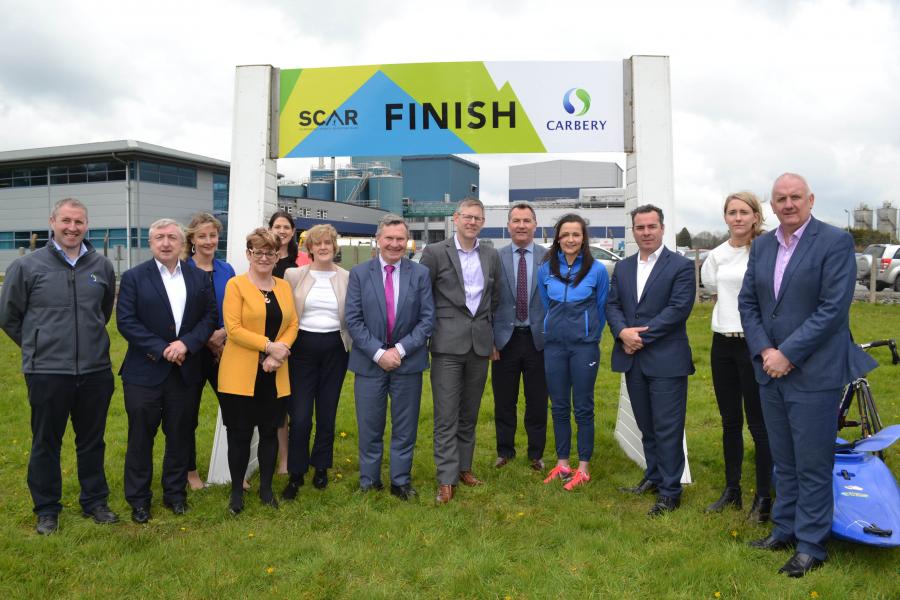 Pictured are members of the Carbery Co-Op, Bóthar's Barry Moran (5th from right) and Carbery Co-Op ambassador, international sprinter Phil Healy, aka the Balineen Bullet. Thank you to everyone who supported this day.
Presentation Secondary School, Tralee 
Students at Presentation Secondary School, Tralee, presented a cheque for €700 to Mags Moloney, Bóthar, to send Sarah the Heifer, which was donated to the school by farmer Pat Buckley, to a family in Albania. Included in the picture are l-r Mags Moloney, Bóthar, Sinead Forrest, Pat Buckley (Abbeydorney), Emma Hussey and Clem O'Keeffe (Ag Science Teacher, and pupils from the school. Thank you one and all!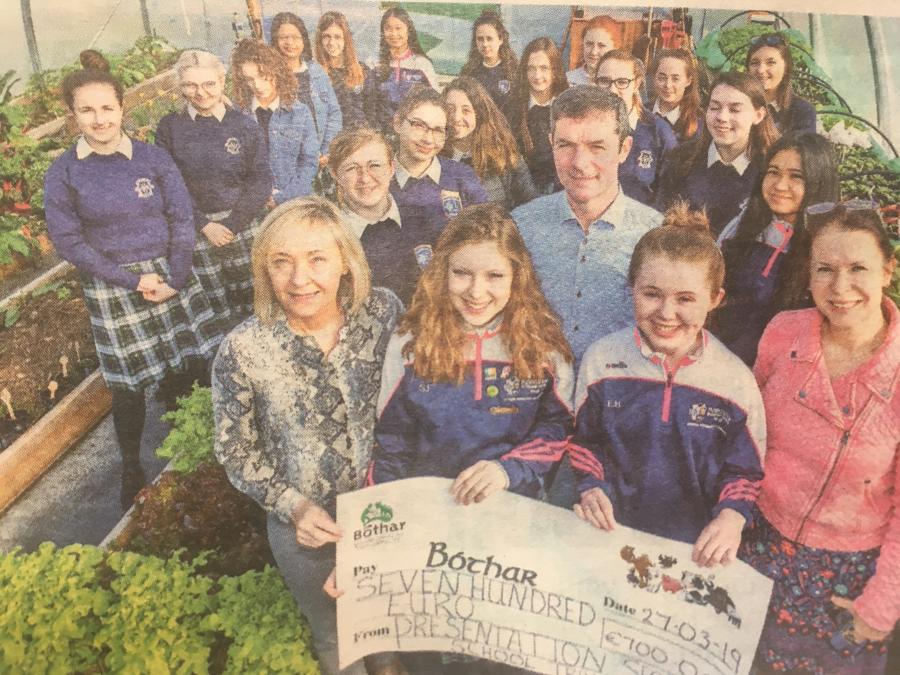 Clonmellon National School, Navan, Co Meath
Slam dunk! This is 6th class at Clonmellon National School, Navan, Co Meath. They raised €925 for 2 goats, bees and a camel through fundraising by having a basketball shootout and also donating money from their confirmation.  Their teacher who is missing from the pic is Jane Browne. Well done everyone.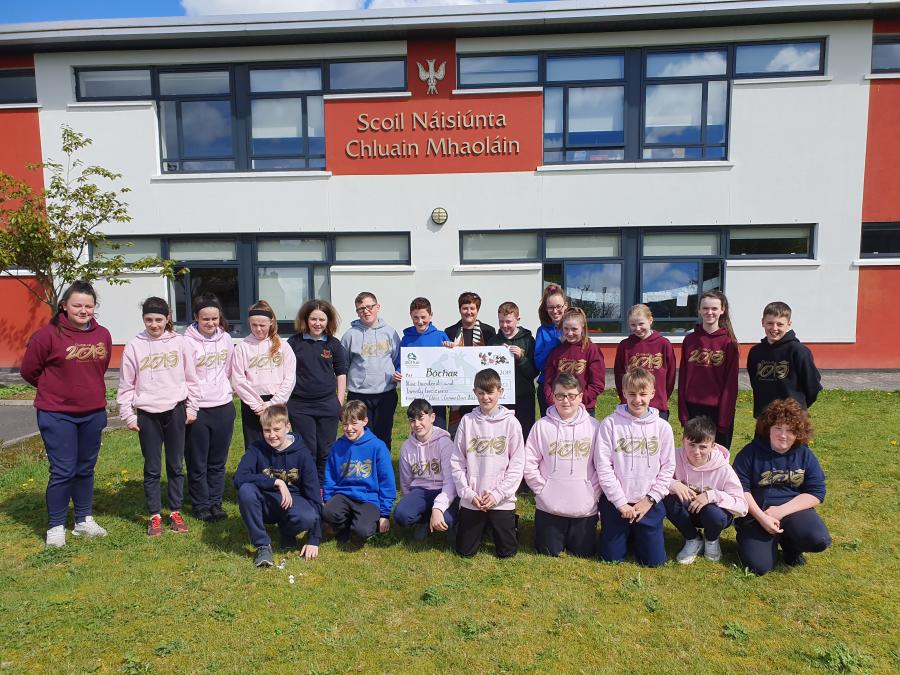 Ennis National School, Ennis, Co. Clare
Their Bóthar cheque wall is running out of space! Bóthar's Olivia Comiskey visited Ennis National School in Ennis Co. Clare recently to collect a cheque for €2,270.  As anyone who organises a fundraiser will know, so much work goes into them. So thank you to everyone for supporting it. 
Coláiste Éinde, Salthill, Co. Galway
Congratulations to the Transition year students from Coláiste Éinde, Salthill, Co. Galway who took part in a Halloween dress up to raise funds to put towards sending an in-calf heifer to the developing world. They raised an AMAZING €1,044. Well done everyone. 
Coláiste Naomh Cormac, Kilcormac, Co Offaly. 
Well done to the students of Coláiste Naomh Cormac, Kilcormac, Co. Offaly, who organised a delicious fundraiser "Buns for Bóthar" and raised €200 for Bóthar. Rumour has it everyone was loooking for the recipe for a certain lemon drizzle cake. Thank you to all involved.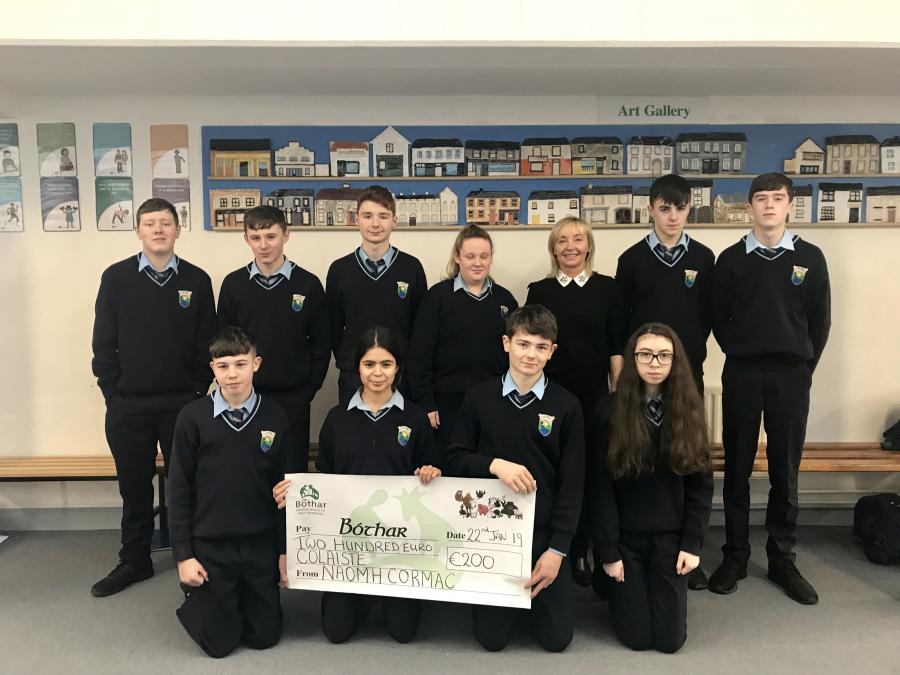 Northeast Support Group 
This group of supporters have raised an amazing €29,750 for Bóthar through the sale of commercial animals. This is a project where a farmer donates a non-dairy calf, which is then reared by another farmer in the Bóthar North East Support Group. The animal is reared until it is ready for sale at the mart. All proceeds are then donated to Bóthar by the Bóthar North East Support Group. Pictured here from left to right are Sean Greenan, Yvonne Mc Connon, Tom Byrne (Chairperson), Maureen Byrne and Teresa Mc Eneaney.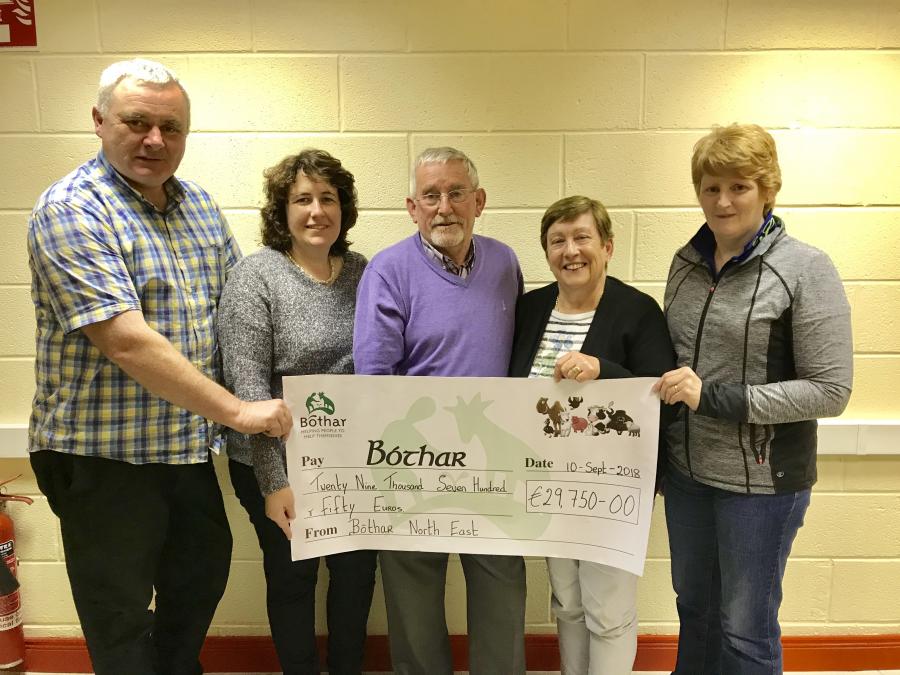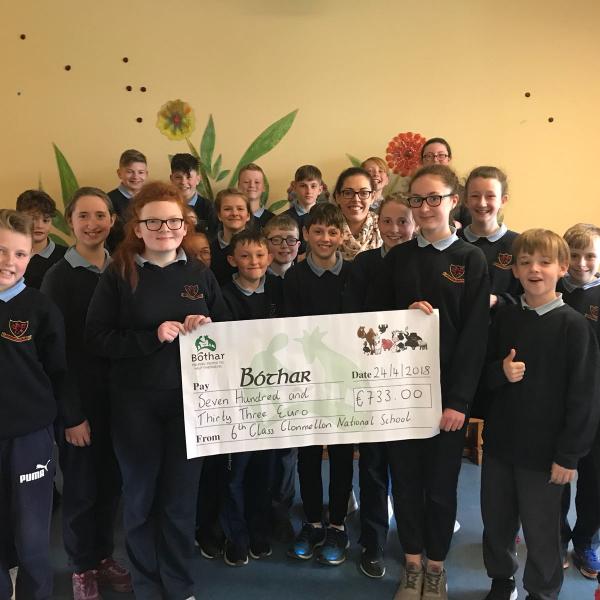 Be a Super Supporter
If you or your school have done something special in aid of Bóthar, let us know so we can feature you in our Super Supporters Section!
Email your photos into Maureen@bothar.ie