Autumn water Filter Appeal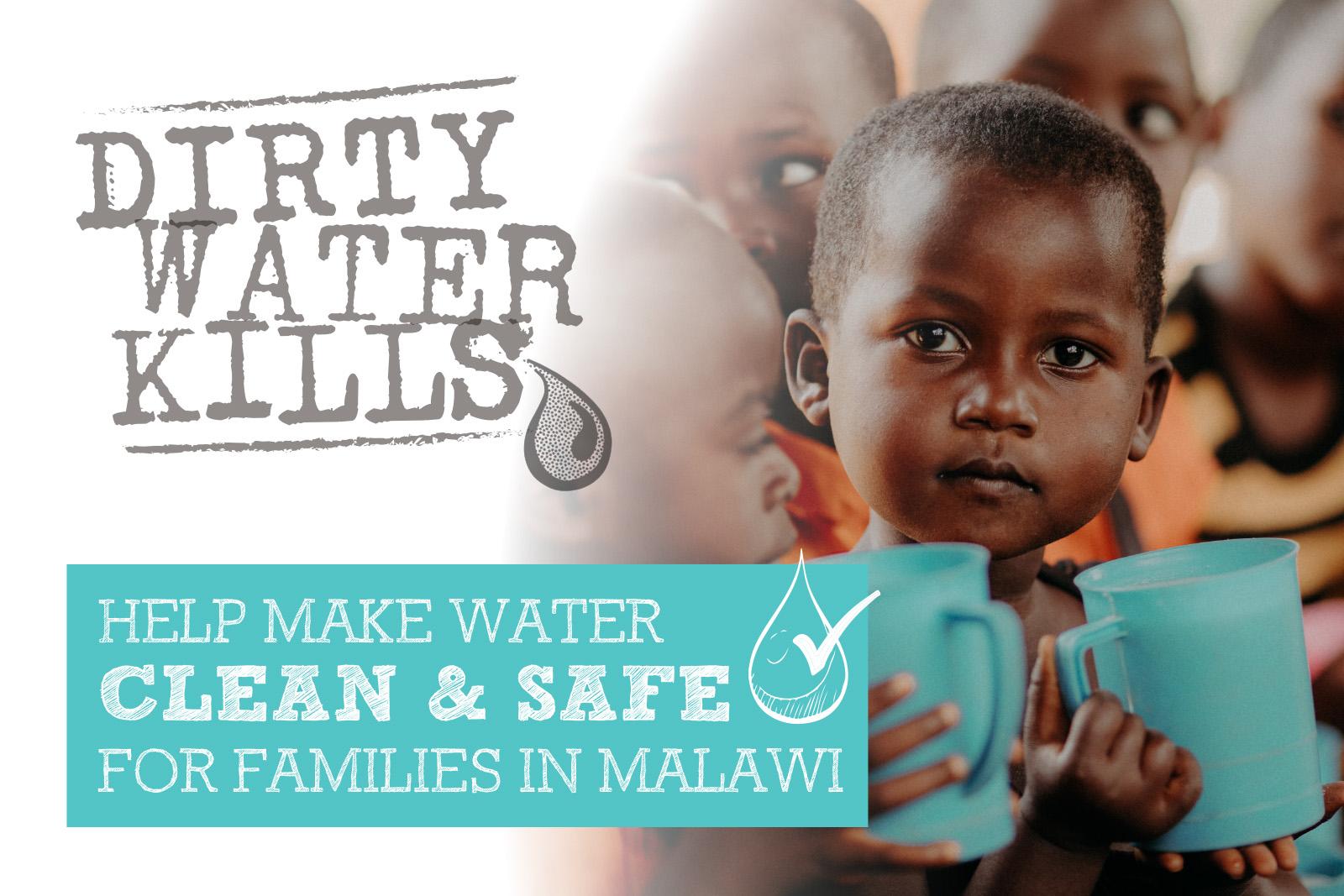 1 in 3 people globally do not have access to clean safe drinking water - WHO, June 2019
People are dying from diarrhoea.
DYING from diarrhoea.
When you read something like that I think it makes you stop in your tracks. I don't mean to shock you by being so blunt, but I need to tell you that a simple water filtration system costing €50 is able to stop needless deaths like this.
With your help, Bóthar can continue to provide this life-saving system.
It's not just diarrhoea that is killing people, contaminated water and poor sanitation are linked to transmission of other diseases including cholera, dysentery, hepatitis A, typhoid, and polio.
Bóthar recently sent 10,000 water filtration systems to our programmes in Malawi but it was not enough.
They are crying out for more.
Running water is not an option in the dwellings of our farming families. It just does not exist there. Families normally gather their daily water from a local water source, usually a pump or well. Children will often fetch the water before school or in some cases they might pay a small fee to transport the water by bicycle. It's a time-consuming and a sometimes dangerous exercise to fetch the daily supply.
Typically one water filtration system will produce 2,500 litres of water, enough for approximately three months if used daily. That is an amazing gift to be able to give.
Will you help?
What are the benefits of the Water Filtration System?
- It is an effective barrier to pathogens, including cholera.
- Being polymer based it is robust. It is also enclosed within a protective casing
- No maintenance is required other than to wipe the filter with a cloth to remove excess residue.
- Limited training is required. The simple operating instructions are in graphical form on the packaging.
- There are no moving parts and no power source is required.
- The filter improves the taste as well as the quality of the water.
How a water filtration system works:
The user collects water in a container, from virtually any source, that must be positioned at least three feet from the ground. The user then places the filter into this container. To commence the flow the tube is either sucked or primed.
A clean collective container is put underneath. Water simply passes through the casing and exits via a tube and is ready to drink in a minute or less. Because water can only exit the siphon tube having passed through the filter, the risk of recontamination is contained.
Social benefits:
With children particularly at risk from water-related diseases, access to improved sources of water can result in better health, and therefore better school attendance, with positive longer-term consequences for their lives.
When people have access to clean water, they don't have to spend as much time and effort physically collecting it, so they can be productive in other ways. This means greater personal safety by reducing the need to make long or risky journeys to collect water. Better water sources also mean better health and are better able to remain economically productive.
How you can help:
Will you make a promise to get clean safe water to just one family? For €50, you can make a donation of a water filtration system to deliver clean, safe drinking water to a family in Malawi.
Alternatively, call a member of the Bóthar team on 1850 82 99 99.
I really hope you can help us send this life-saving water filtration system to many more families to stop this from happening in our world today.