Tommy Fleming travels to Bóthar's projects in Rwanda
Sligo singer and Bóthar supporter Tommy Fleming travels to the African nation to record a special song with children from the Rwandan village of Rwamagana.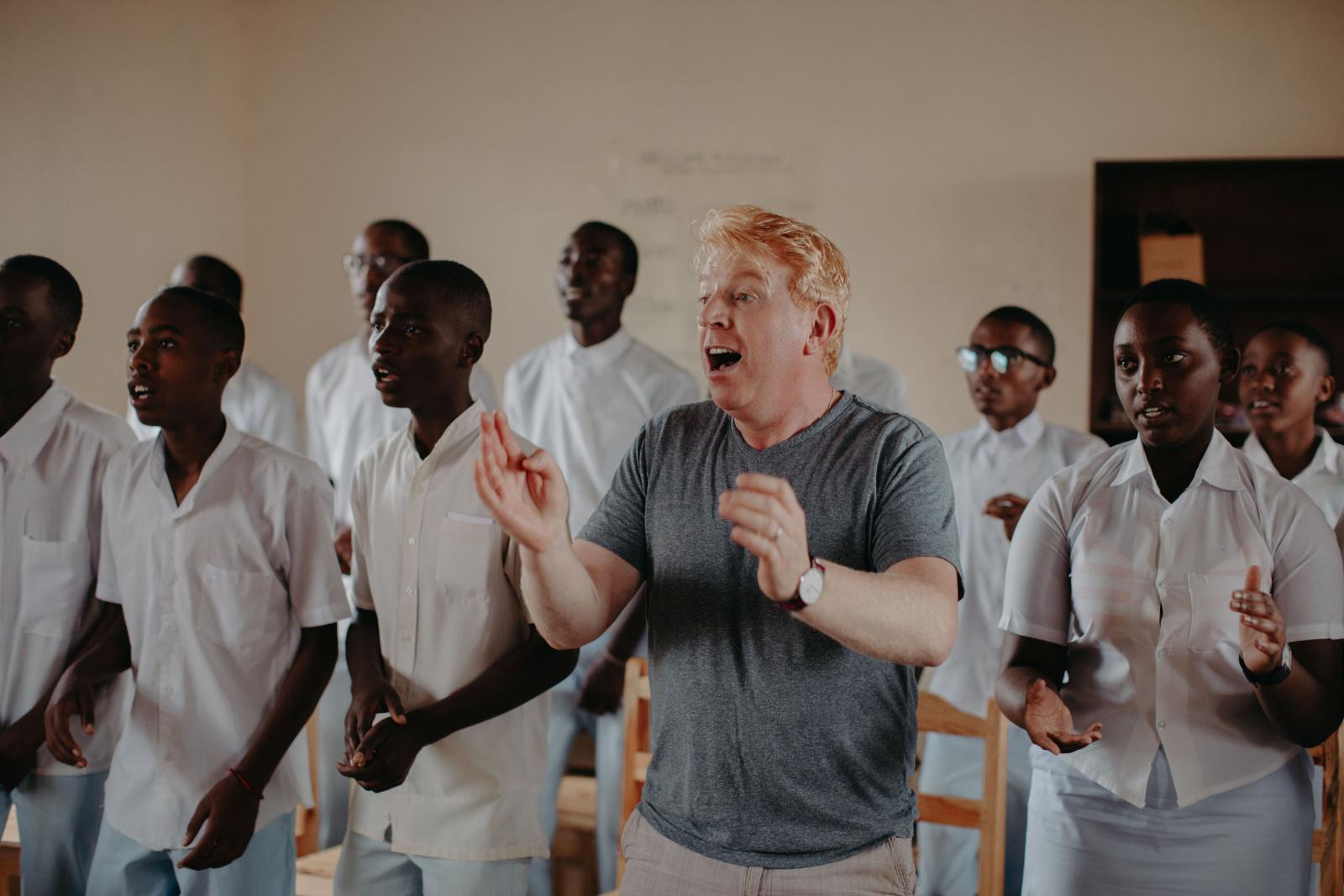 Multi award winning Tommy Fleming travelled to Rwanda to record 'Give A Little Bit' – the 1977 hit by Supertramp – with local teenagers in support of Irish aid agency Bóthar's Christmas appeal.  The appeal is focussed on widows of the horrific Rwandan genocide of 1994 and, particularly, on supporting the government's 'One Cow Per Family' programme aimed at reducing extreme rural poverty by providing every family with a cow. 
The song was recorded by Tommy with students from the east Rwanda school, Rwamagana High School, one hour from the capital city, Kigali. It can be downloaded for €0.99 from iTunes here.  A four-part series of short videos documenting the trip will also be broadcast on Bóthar's social media platforms on Mondays, starting this Monday, November 12th at 7p.m. 
Fleming took time out of a busy schedule in the run up to the September recording of Voice of Hope II – the much-awaited follow-up to his Voice of Hope album, his biggest selling album to date – to travel to the tiny African nation. Rwanda is still in recovery mode from the horrific genocide of 1994 which triggered the bloodiest 90 days in the history of the world as up to 1million people were slaughtered in a country slightly larger than Munster. 
Almost a quarter of a century later, however, Rwanda is now one of Africa's most peaceful nations but one still gripped by hardship.  Bóthar has lifted thousands of families from poverty there with the gift of in-calf Irish dairy heifers and other food and income producing animals since it began operations in Rwanda 21 years ago and it was this work that attracted the Sligo native's attention. 
I come from a farming background as my parents were small dairy farmers so it's in my DNA.  When I looked more into what Bóthar do, I thought my parents would just have loved this idea so I was only too delighted to travel out, see the projects and record the song.

We spent a week there in the summer when it was actually warmer back home.  We got out into the heart of Rwanda to meet families, whose daily lives are about survival. We met with genocide widows and saw first-hand how the gift of Irish cows to them has transformed their lives. 

One woman, for example, had five of her nine children and her husband killed in the genocide.  You would wonder how someone could go on after that and when we arrived the smiles and tears just flowed. It was as if we were representing a country that had given her family the winning lotto ticket.  You just stood there humbled by it all.  We've never experienced anything remotely like this.

The cow she got from Bóthar gave her some bit of hope. She was able to raise what was left of her family and subsequently her grandchildren from this single cow as every year since she got that cow, Bóthar was back to put the cow back in calf.  The gift kept going on and on and is still giving to her today.
Working with the children on the song was, however, one of the Sligo singer's career highlights. 
The kids have little English but music is a universal language. When we met them, we asked them to sing to see what they've got. They broke out into 'Perfect' from Ed Sheeran and we just looked at each other and said 'this is going to be fantastic'.  We had so little time to prepare but they nailed it.  That night we sang in Kigali with them was really, really special.

 
 I've had many, many great moments in the music industry but recording with these kids was one of the very best. They have an incredible sense of positivity despite having so little. We met them first on a Sunday, rehearsed with them on a Tuesday and on the Wednesday performed with them in front of a small crowd but an influential one as it included a number of government officials. 
Fleming, whose latest CD Voice of Hope II was recorded live at Galway Cathedral in front of a sell-out 1,200 crowd, said that the entire Rwandan trip was an eye opener. "It's an amazing country. When you see get the stats, you just wonder how could a country get over this, how people could get on despite the fact that their neighbour slaughtered their children. But they are getting on.
Up 1million people were killed in just three months, women were raped and infected by HIV carrying gangs, huge numbers of them were widowed, children were slaughtered and huge also numbers orphaned.  It's estimated that over 800,000 children lost one or both parents during the genocide, 70% of them witnessed someone being killed or injured and 90% believed they would die.

The world turned its back on Rwanda at the time and that's one of the most shocking things. But the Irish response, as ever, has been brilliant. What I saw with Bóthar made me proud, particularly coming from a farming background.  It's that brilliant principal of 'give a man or a woman a fish and you feed them for a day, teach them how to fish and you feed them for life'. 

We could also learn a thing or two from them, not least how they harvest all their water from the rainy season; the fact that once a month, for four hours, the entire country shuts down for community service that sees them clean up the city and countryside.  I particularly love that heavy goods vehicles have to park outside the capital during rush hour to free up traffic. 

It really is a special place and very special because of how they are trying to move beyond the genocide. There's no Hutus or Tutsis anymore, just Rwandans.  But they still need our support and I'd ask people to do what they can this Christmas to support the Bóthar programmes out there. They really do make an unbelievable difference.