Sell One to Send One
Co. Clare farmer's initiative to sell weanlings will lift Rwanda genocide families out of poverty.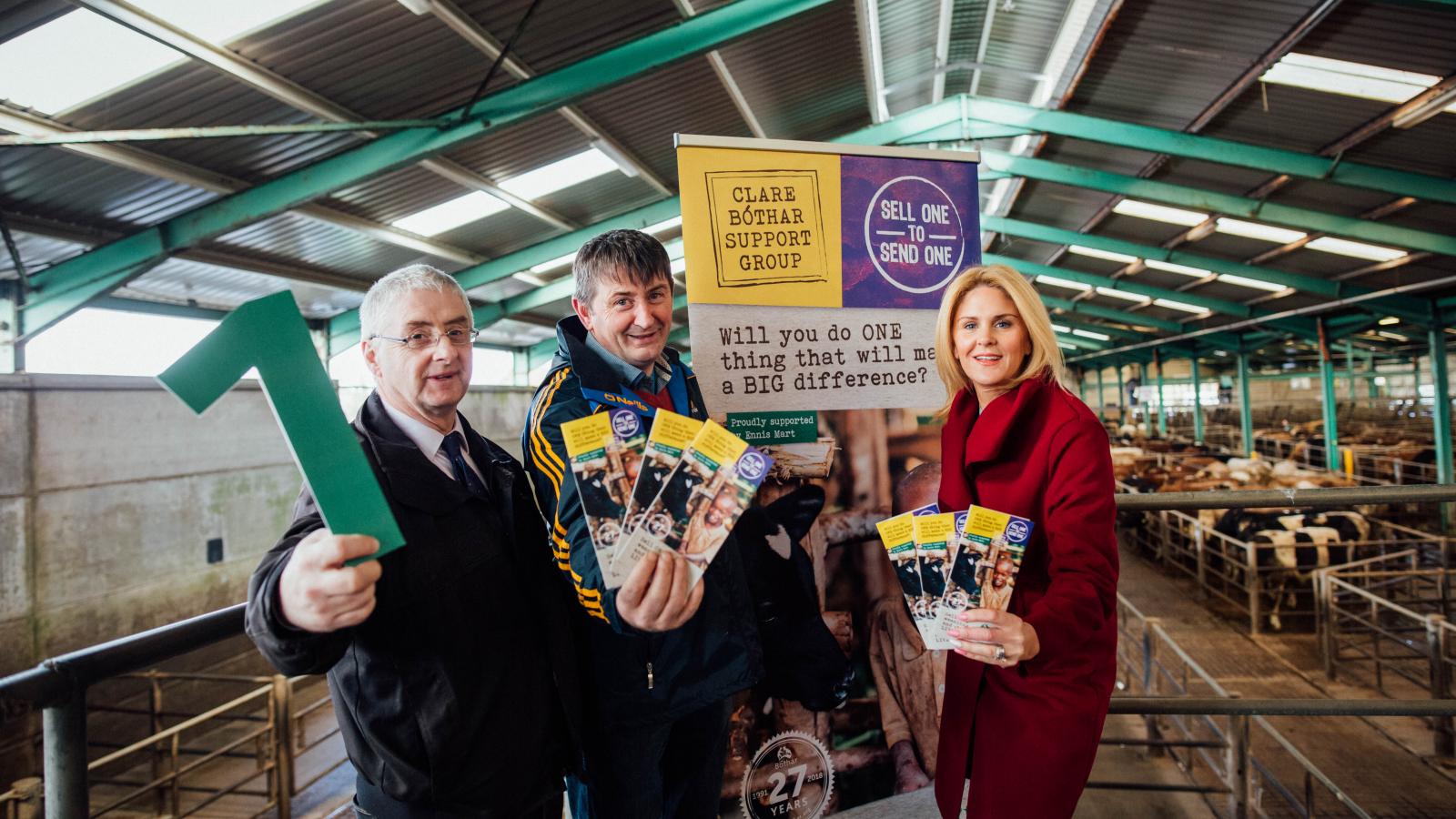 Co. Clare farmer's initiative to sell weanlings will lift Rwanda genocide families out of poverty
Volunteer to stage 'Bóthar Weanling for Heifer' this autumn at Ennis Mart
Co. Clare farmers' affinity with international livestock aid agency Bóthar is set to deepen thanks to a new concept developed here that will enable non-dairy farmers get behind the charity even more.  
A first ever 'Bóthar Weanling for Heifer' sale is set to take place at Ennis Mart this autumn when over €15,000 worth of livestock will be put to the hammer to support the agency's ongoing appeal to help Rwandan genocide victims transform their lives through gifts of Irish dairy heifers.
The proceeds from the bull sale will go towards purchasing and rearing heifers until they are sent, in-calf, to Rwanda at 18 months old. 
Though not a dominant dairying county, the Banner has, nevertheless, generated huge support for the Mid-West based livestock aid agency over the years.  But this new concept, which is the brainchild of Newmarket on Fergus farmer and Bóthar volunteer John Fitzgerald, will bring that support to a new level.   
There's a huge affiliation and affection in Clare for Bóthar, going back many, many years, across the farming community but also the general public.  I came up with this idea because even though we have that relationship here with Bóthar, we're not a big dairying county. I read last year that we have by far the lowest number of dairy cows of any county in Munster.  

I have spoken to a number of farmers and they are on board and ready to donate so it looks like we will get a great response and raise a nice amount for Bóthar to do more good work.  That's a very generous commitment by farmers but at the worst of times you'll find farmers wanting to help out others; it's in their DNA.  I would think it will be the biggest single sale of weanlings for a charity in Ireland.
Bóthar has sent out goats, pigs even chickens in the past to poverty-stricken families but it is associated with the cow more than anything so that got me thinking.  I approached them with an idea that we would try and arrange a weanling sale for them in autumn which would allow beef farmers sell weanlings at Ennis mart and we would gather the proceeds together to buy heifers for Bóthar's programmes. 
Bóthar CEO Dave Moloney said that the idea is typical of one of their most active volunteers. 
John has done incredible work over the years for us. He's given of his time freely to work here on the ground but also to travel abroad for us with airlifts of animals, making sure that everything is prepared for the flight and ok during it.  The fact that he's seen for himself on the ground the difference a gift of an Irish dairy heifer, or indeed a goat or pig, etc. makes has impacted on him also.  That has now translated into this 'Bóthar Weanling for Heifer' sale where farmers will sell one to send one. I'm sure it will be a success and something that started in Clare could well be taken by other counties.
Of his involvement with Bóthar, the beef and sheep farmer said that he was won over from his very engagement.  
Another volunteer, Anthony O'Gorman from Limerick, asked me to get involved to give some assistance with loading in the airport and down through time we have loaded pigs, goats, chickens, dairy heifers, onto planes in Shannon and brought them to Africa, Albania, Kosovo, Romania.  I've seen huge differences between all places. For example, Rwanda suffered a huge genocide back in 1994.  I've seen things there that would be unimaginable.  An Irish dairy cow for these people is like winning the lotto. It's a huge life changer; it's the difference between living in dire poverty and being able to send your children to school.

People often ask me what conditions are we sending their animals into. I have seen these conditions for myself and believe you me I'd be happy to send any animal there. They've plenty of fodder, plenty of water, they have shade should they need it. Rwanda is a country that is very similar to Ireland on a good summer's day. There's plenty of greenery there, plenty for every animal to eat. I've seen the difference these cows can make to a farmer in Rwanda, where a local cow would give about a litre and an Irish dairy cow would give 20 times that.
For further information, contact John Fitzgerald on 086 375 6591