Jim Gavin launches Bóthar's Christmas Campaign
It was a stroll on Stephen's Green with a big difference for True Blue Dub Jim Gavin as he took a show-cow for a walk in the city centre to launch the Christmas campaign for Irish livestock aid agency Bóthar. Gavin has just returned from a second trip in a year to meet Rwandan genocide widows that the agency has trained up ahead of giving them a life-changing Irish cow.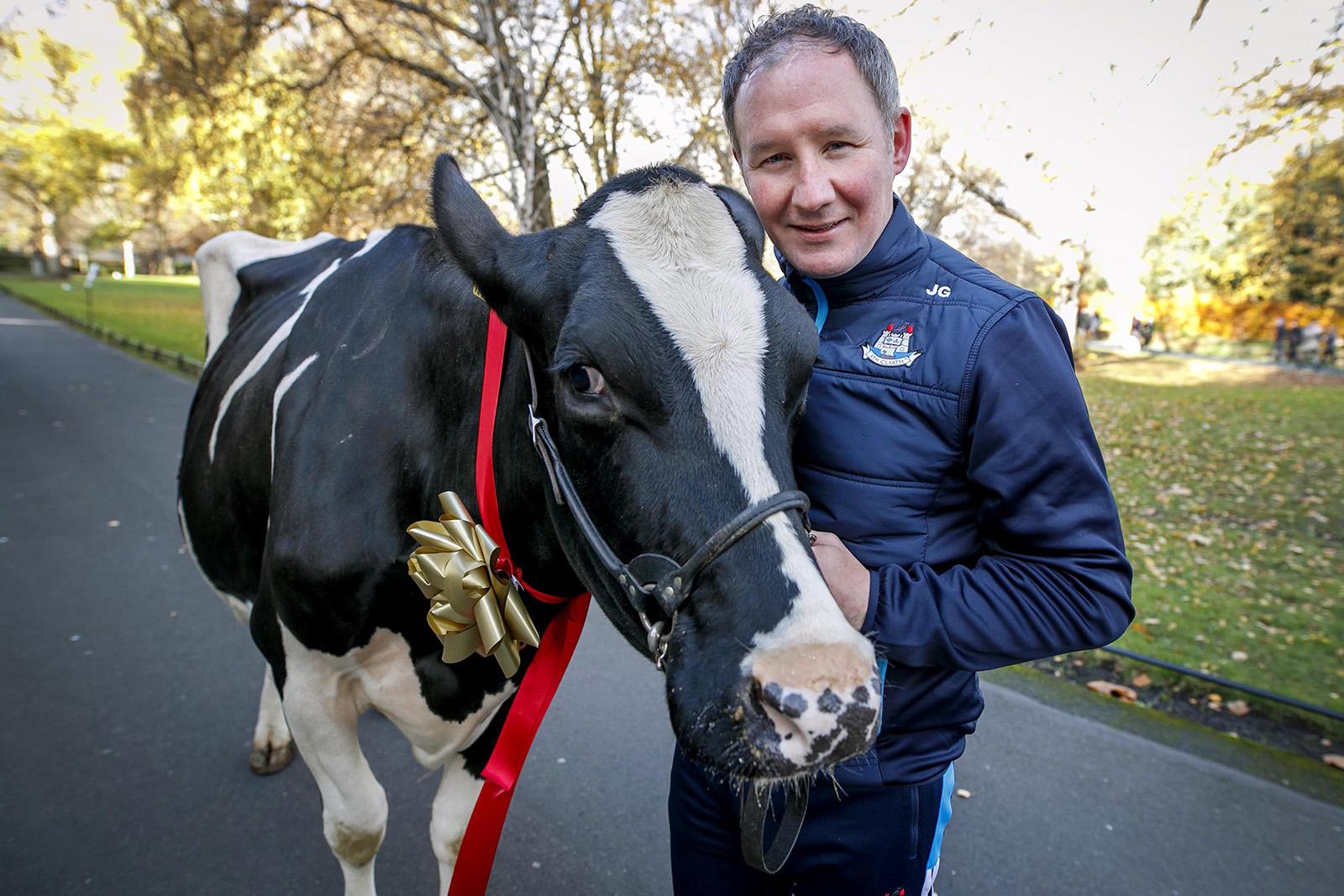 I am a city boy, walking a cow around Stephen's Green 
                             - Jim Gavin as he launches Bóthar Christmas campaign
Dublin manager Jim Gavin may be a city boy and a True Blue Dub to the core but he raised the flag today for a charity with its origins in the heart of rural Ireland.
The three-in-a-row All Ireland winning manager showed that he didn't only have a cool head when it comes to big matches in Croke Park but also in handling a cow in the St Stephen's Green.
Gavin took time out from his busy schedule with the Irish Aviation Authority to launch Bóthar's Christmas programme, which is focussed on sending food and income producing livestock to widows of the Rwandan genocide of the mid-1990s. 
Gavin wrote to the agency shortly after the first leg of the Dubs' three-in-a-row success was achieved and offered his support, having been impressed by the concept of giving impoverished families donations of live animals to help feed and earn them an income. 
Two years later, Gavin has completed two trips to Rwanda to meet widows of the genocide and recipients of the generous donations of animals by farmers and members of the public here.
The trained pilot led a mission last year by Bóthar to mark its 25th anniversary by making the biggest ever multi-species airlift from Ireland of over 5,000 animals from in-calf heifers to day-old chicks.  And in recent weeks he travelled back out to Rwanda to visit some of the recipients of that record airlift, and witness for himself the impact these donations have made to the lives of some of the poorest people in the world.
Today he got to grips with a show cow reared by Bóthar supporter Brochan Cocoman in St Stephens Green showing the same level of calm he has displayed across the Liffey in Croke Park on big match days as he launched the aid agency's Christmas campaign
He said: 
Two years ago I reached out to Bóthar to give assistance and last year we flew out of Shannon Airport with a cargo full of cattle, hens and bulls and goats. I have just returned from Rwanda after a second visit the see the great work that Bóthar are doing on the ground.

The main reason I reached out to Bóthar was I had spent some time on the ground in Africa with the Defence Forces and I saw the great work that they do.  It's really about helping people to help themselves, to give people the gift of a cow. The nutrition that it brings to the families is life-changing.  The additional milk that the cow produces is sold on to the local market, enabling the family to buy clothes for their children, school books and, in some instances, fund the building of a new home.  It's just a great program.
Appealing for people to donate, the proud Dubliner who has never shied away from talking about his Co. Clare roots said that he was delighted to back a charity with its roots in the country. 
I am a city boy, walking around St. Stephen's Green with a Friesian cow and it feels a bit strange.  But we are a small island and we all have connections to rural society.  My parents come from West Clare and the GAA is in every village and parish throughout the island and I think it would be great for people to row in and support Bóthar.  It's just a great Irish charity and I've seen for myself twice now on the ground the incredible work they do.
Bóthar's Niamh Mulqueen said that the Dublin manager's support has been a huge boost for awareness of what Bóthar does. 
Jim contacted us 2 years ago wondering was there anything he could do to help Bóthar.  He has been out to Africa on two occasions now to see the work that we are doing.  He's a pleasure to work with.  He wants to know everything, he wants to know details, the 'ins' and the 'outs', how everything works and it gives you a real feeling of how good a manager he is. 

He a perfect fit for us also as we actually get a huge level of support from urban areas, from people who donate money to buy animals. He's a city boy for sure but the rural factor is very much in his heart.